Space and the universe are fascinating subjects for children, and astronomy for kids takes on many forms, from books to interactive websites to special astronomy classes and programs.
Kids and Space
Children are wonderfully inquisitive, and their questioning often extends into wondering about the sun, moon, planets, stars, and other aspects of our universe. Even very young children can grasp some of the basic concepts of astronomy, such as what stars and planets are. Astronomy is a valuable science, and in today's society parents can find many ways to encourage their child's interest in this discipline.
Astronomy Classes and Programs for Kids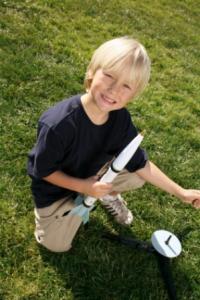 Recognizing the interest that children have in the intriguing study of space, many venues offer special programs or classes on astronomy for children. These may take place during the summer or at specific times during the school year.
Locating Astronomy Programs
Places that may offer these programs include:
Space centers
Planetariums
Local libraries
Community/rec centers
Summer camp programs
Science centers or museums
Natural history museums
Children's museums
Summer programs for kids offered by community colleges
After school or during the summer at local elementary or junior high schools
Space Camps
Some of the most renowned youth astronomy programs include:
US Space and Rocket Center Space Camp: Exciting overnight camp programs for youth ages 7 to 18 from 3 to 8 days are available for kids to explore astronomy and related math and technology. They also have space camp programs available for children with special needs.
NASA Kennedy Space Center's Camp Kennedy: For youth ages 8 to 14, this space day camp is a thrilling adventure in learning about space. Various one week sessions are available.
Kansas Cosmosphere and Space Center: Offers various elementary space camp programs and future astronaut and aviation programs for high school students.
Astronomy for Kids Online
Many websites are dedicated to providing ways for children to learn more about astronomy. These sites may include space pictures and photo galleries, astronomy dictionaries, kids online games and activities, online quizzes, fun facts, and more resources for kids. Below are just a few of the online resources available:
NASA for Kids: The NASA for kids site has many great resources for learning more about astronomy, including news, articles, facts, games, activities, and a picture dictionary.
NASA's Space Place: Lists fun hands-on activities for children to learn about space, has online astronomy games, and fun space facts.
Astro for Kids: From the best-selling Astronomy Magazine, Astro for Kids provides fun space facts for kids, games, observation tips, how to learn about the constellations, and more.
Astronomy Kids from Oracle Education's thinkquest offers a virtual telescope to see what constellations and planets look like and pictures and kid-friendly articles about space.
StarChild for Young Astronomers: This fun space site combines audio with articles, facts and pictures on space. After reading, visit the solar systems activity page to take quizzes and play games.
Amazing Space: Learn about the Hubble Telescope, view the constellation guide, and do online activities and games to learn more about comets, black holes, stars, and planets.
Astronomy Books for Kids
If your child is interested in learning more about space, make the next pre-bed story time an adventure in astronomy. Request age-appropriate books on astronomy and space from your local library, like Seymour Simon's award winning Earth: Our Place in Space or Wonders of the Planets, by scientist Raman Prinja. Many not only have interesting facts about our galaxy, but also have charts and lists of hands-on activities as well. For more great books, check out the Kids Cosmos Book List, compiled by a group of amateur astronomers dedicated to encouraging children to learn astronomy.
---
Astronomy for kids can be both fun and educational. By encouraging a child's interest in stars, planets, and other topics in astronomy, parents and educators can help prepare that child for a future that's out of this world.